FBI MoneyPak virus, otherwise classified as "RansomWare", is a virus that's made it's way around the internet for some time now. The virus's creators ask for money to get rid of the warning, and even if you do comply by wiring them the money the persistently pesky bug does not go away. After contracting the virus you will notice that you will be unable to control your system and your screen is replaced with a very scary looking message which you can see an example of below.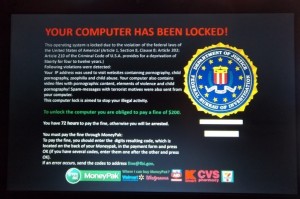 It is the official FBI logo with a message that may even accuse you of committing a crime, such as downloading child pornography. Then there's the ransom demand for anywhere from $200 to $500 to get back control of your computer. DO NOT PAY THE "FINE". I cannot stress this enough don't waste your time or money in paying the scammers to remove this from your computer, it will never happen. The virus can be in an email, or on a less than reputable website/link, or even in an attachment for something completely different. There are plenty versions of it, with many tailored specifically to the country you live in (in the UK, the warning can be from the Metropolitan Police Service). The virus locks your computer but it usually does not destroy any data. If you get it there are several things that you can do to try and remedy the issue yourself, or take it to a professional who can fix it. If you are feeling a little DIY, here are several links to antivirus software applications to remove it from the basic system
From Norton
– This usually entails booting into safe mode with networking support and running a downloaded utility
http://community.norton.com/t5/Tech-Outpost/FBI-Moneypak-Virus-Removal-Instructions-Delete-the-Malware/td-p/851358
From Kaspersky
– This uses a software utility specifically for ransomware like this. You do have to download the Kaspersky WindowsUnlocker utility, and create a bootable cd with it, to start the system, and run it before windows boots.
http://support.kaspersky.com/viruses/utility?&icampaign=virus_removal_tools_block_find_tool_by_tool_name
Many people report problems with antivirus software being able to remove the FBI MoneyPak virus because its frequently changed by its creators to avoid detection. If the above programs fail to remove this virus you can call us at 1-800-290-9809 and sign up for our ZookaWare Plus service. We will remotely access your PC and manually remove the virus. This service costs $19.95 per month for unlimited tech support and you're free to cancel any time. If we can't remove your virus we will give you a refund immediately.
The best offense in this case being able to use your computer is a good defense. Have anti-virus, antispyware and a firewall running on your PC at all times.